Furniture Factory Ferdinando Maieron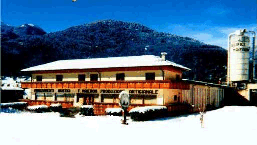 visitor n.:

Our manufacturing is to measure and design; our technicians are at disposal for advice, measurements and estimates.
Sales are direct without intermediaries. In no working process formaldehyde is used, furniture is made in sound wood .
No use of synthetic material or chipboard is made.
On request ecological wax finishes are supplied.

Tradition, atmosphere, quality, professionality, friendliness and competence are the winning cards of Mobilificio Maieron that has been producing furniture for years, skillfully matching tradition with technology.
In our 4ooo square meter premises, placed in Paluzza, in the heart of Carnia, the wood in boards is transformed by the learned hands of our carpenters into unique, custom-made, painstaking furniture, respecting tradition and the needs of modern life.
Taylored furnishings are made, personalized in design and finishes according to the customers' requirements ,tastes and the necessary size, no bound to any standard size. The structures and the doors are produced in solid wood, without any use of chipboard or plastic material, barring of course the use of any glue containing formaldeyde. On request the finishes can be made in natural materials, like wax. Carving and décor are a further sign of respect for tradition and are patiently handcrafted with love by our staff members. The owner himself sees for the survey of the measures, granting the utmost accuracy.
Having been on the market for over 50 years is the proof and guarantee for our being trustworthy and serious.

Our premises, the factory and the exhibition,
are open to the public from Monday to Saturday,
from 8.30 to 12.30 a.m. and from 3.00 to 6.00 p.m.
in Paluzza (Udine), in via Nazionale,40